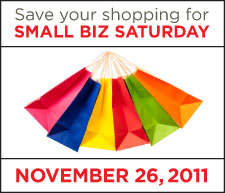 Free Holiday Marketing for Small Businesses: Have You Signed On Yet?
back
If your business doesn't include a Small Business Saturday promotion, you're missing out. It's on November 26, the Saturday after Black Friday, a fight-back day for small businesses who want to take back the holidays from the big boxes.
Initiated last year by American Express, Small Business Saturday offers deals in your store and on their credit cards for shoppers who wait a day, avoid the Black Friday slug-fest, and support small, local businesses.
And it's working.
This year, Google, FedEx, and Clear Channel have joined Facebook as partners, along with a very long list of associations and businesses.
Hip, hip, hooray! Small businesses are carving out a niche in the post-Thanksgiving shopping frenzy! Join up and you could become part of a holiday tradition.
"What makes it compelling for small retailers is American Express is offering the discounting that I can't afford to offer. It allows us to be competitive with larger retailers," says Rachel Thebault, owner of Tribeca Treats. "Because Small Business Saturday is supported by huge businesses like American Express and Facebook [we get] marketing and promotions we couldn't afford."
So, small business owner, take another look at your holiday marketing plan. You may be missing out on a chance to draw in new customers, win free advertising, and take the plunge into social media.
American Express and Facebook are offering both incentives to put up the signage and be part of the movement, and tools that make this a great opportunity to test the social media marketing waters.
Free tools to help you create an offer and leverage your social media following
in-store signage that will tie in with the big social media push sponsors are making … and your own social media efforts
free e-marketing materials, including Facebook and Twitter posts, email text, a badge to add to your website or FaceBook page
a $25 statement credit for customers who shop at your store, if you take American Express cards
$100 in free Facebook ads, courtesy of American Express, while they last, to be run during the last three weeks before Nov. 26 and after.
Rachel attributes much of the 33% upsurge in Tribeca Treat Facebook followers to participation in last year's Small Business Saturday. Those followers directly translate into sales, she says. A picture posted on Facebook is often shared (can you say "word of mouth advertising?") and leads to people walking through the door, with visions of cupcakes dancing in their heads.
In Central Illinois, 20 organizations are joining together to promote Small Business Saturday. They've drawn media attention and the support of local mayors who are pushing a regional partnership for small businesses that will extend beyond Nov. 26.
Rachel is increasing her participation this year by offering free hot chocolate to those patronizing her small business on November 26. She'll be drawing people to local shops with the smell of chocolate as well as boosting her own visibility.
Why are you joining Small Business Saturday?
If you liked this article, you may also like:
American Express Takes On the Small Business Cause
Jobs Act Is Right On: America Must Support Small Businesses
Small Business Network Builds Members and Community
Buy Locally Is the Motto This Holiday Season