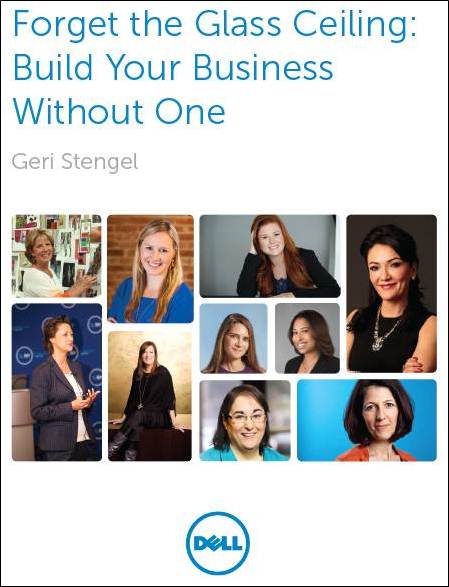 Forget the Glass Ceiling: Build Your Business Without One
back
Pundits and politicians praise the economic power of small businesses but what they don't say is that six million jobs would be created in the United States over the next five years if women entrepreneurs had the same opportunities as men. That's a lot of miles down the road to economic recovery. So what's holding women and the economy back?
Forget the Glass Ceiling: Build Your Business Without One is a practical look at the barriers women face in starting new businesses as well as the ways over, under, around and through those barriers. Using the experiences of 10 high-powered women entrepreneurs, Geri Stengel lays out the tactics that women can use to inspire and achieve business success.
As its foundation, the book uses Gender-Global Entrepreneurship and Development Index Research (Gender GEDI), commissioned by Dell. It is the first diagnostic tool that comprehensively identifies and analyzes the conditions that foster high-potential female entrepreneurship development.
Stengel's book shines a light on the solid entrepreneurial skills women have and the ways in which we'd all be richer if women aspiring to become entrepreneurs were funded to the same degree as men. The role models she highlights give advice supported by Gender-GEDI research and leads to several conclusions: Women can and do innovate, lead and succeed. And that if you build your own business, you don't have to worry about corporate glass ceilings. You control your own destiny.
The women whose achievements she highlights have all built major businesses. They are:
Erika Bliss, CEO of Qliance, Seattle, WA
Mandy Cabot, founder and CEO of Dansko, Chester County, PA
Luan Cox, founder and CEO of Crowdnetic, New York, NY
Liz Elting, Co-CEO of TransPerfect, New York, NY
Kara Goldin, founder and CEO of Hint, Inc., San Francisco, CA
Lili Hall, president and CEO of KNOCK, Inc., Minneapolis, MN
Paula Long, CEO of DataGravity, Nashua, NH
Kourtney Ratliff, partner, Loop Capital Markets, Chicago, IL
Danae Ringelmann, founder and chief development officer of Indiegogo, San Francisco, CA
Nina V

aca, founder and CEO of Pinnacle Technical Resources, Dallas, TX
Geri Stengel, author of Forget the Glass Ceiling: Build Your Business Without One is a Forbes contributor, 2013 and 2012 Small Business Influencer, Kauffman FastTrac facilitator, former adjunct professor at the New School, and a past board member of the New York City Chapter of the National Association of Women Business Owners (NAWBO). She is also founder of Ventureneer, a content marketing and market research company that helps corporations attract small-business customers and build brand loyalty.
Forget the Glass Ceiling: Build Your Business Without One is being made available from Dell, at no charge.
What people are saying about Forget the Glass Ceiling
"Forget the Glass Ceiling, Build Your Own Business Without One" is a must read for any woman thinking about venturing into the world of entrepreneurship. Author Geri Stengel maps out a comprehensive guide to the key players and top organizations inside the female entrepreneurial movement. "Forget the Glass Ceiling" is a clear, optimistic and practical guide for entrepreneurs everywhere.
– Allison Haunss-Executive Producer and Host of the "Working Woman Report"
---
Geri Stengel beautifully weaves profiles of successful women entrepreneurs with research-based facts about addressing obstacles that these women face. Rarely do we get to see such a complete picture of an important story.
– Suzanne Andrews, Impact With Wings
"Forget the Glass Ceiling: Build Your Business Without One was more than just a book, but a call to action. The stories of women entrepreneurs' rise to success serves as both a guide and the motivation that every aspiring business owner needs. Geri Stengel's book is smart, straightforward, and encouraging. You will start asking, 'What glass ceiling?'"
– Emily Raleigh, Founder of Smart Girls Group and Student at Fordham University
No business school or text book can teach what real-life case-studies can teach! Geri Stengel has crafted her words and told the stories of successful women entrepreneurs in such a way that reading statistics and understanding research is easy, meaningful and really interesting. Her stories of the women who have dodged the dreaded corporate glass ceiling and are flourishing in their own businesses, are informative and encouraging. Geri's book is practical and illustrates how women, the greatest untapped resource, are the solution to job creation and uplifting of whole nations. I eagerly await Geri's next book!
– Tina Thomson, Founder and CEO, Epiphany Leadership and Development
---
"Geri has long been in the forefront of the female entrepreneurial empowerment movement. Now she's written a barrier-busting book that illustrates how successful entrepreneurial women are modeling the feminization of an aging male business model. Now that we have bona fide role models, it's time to believe we can, too."
– Linda K. Bolliger, Founder, Visioneer & Board Chair, Boardroom Bound
---
"Stengel provides a comprehensive review of the state of women's entrepreneurship: the challenges and the opportunities. Importantly, she focuses on providing practical and effective recommendations to help women realize their entrepreneurial dreams."
– Nancy Hayes, CoFounder, MoolaHoop
---
"If you're a woman who owns or dreams of owning her own business, you will want to read Geri Stengel's 'Forget the Glass Ceiling.' This compelling collection of stories from the front lines demonstrates that it takes brains, not a Y chromosome, to succeed in the marketplace."
– Jennifer Friedlin, Founder and principal, Iris7 Marketing, LLC
"This is a timely, succinct, practical, and honest analysis of the power and pitfalls of women entrepreneurship in today's globally connected yet politically and economically fragmented startup culture. One where networking, collaboration, problem solving, social activism, and social media are all tools of the trade. Tools which women are already familiar with, and even well versed in, thanks to circumstance and biology. Geri Stengel's expertise and compassion for fellow women in the workplace really come through the pages of this book. It's a well organized "cookbook" filled with anecdotes, profiles of specific women, leadership and networking tips, financial information re: crowdfunding, and advice about innovation and reframing success and failure. Readers and entrepreneurs of both genders will gain much economic and cultural insight into how the game is being played and what needs to change. This is an interesting, useful read for all in business, no matter which industry or locale. Kudos, Geri, for your literary, intellectual, and civic contributions to entrepreneurs everywhere!
– Penina Rybak, CEO, Socially Speaking LLC, Author: The NICE Reboot- A Guide to Becoming a Better Female Entrepreneur: How to Balance Your Cravings for Humanity & Technology in Today's Startup Culture