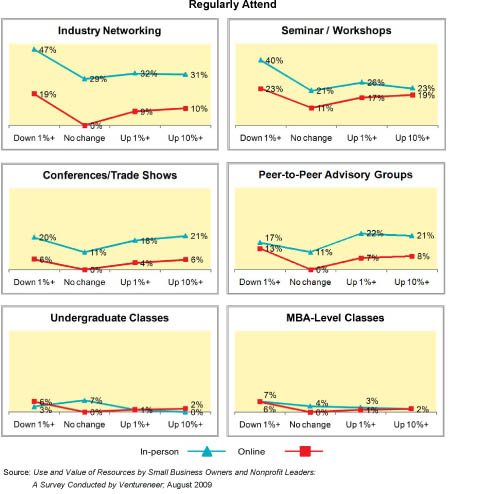 Entrepreneurs Prefer Seminars Over Degree Courses for Ongoing Learning
back
New research finds that small business owners learn in many different ways, but they have a strong preference for seminars over undergraduate business and MBA university courses. Use and Value of Resources by Small Business Owners and Nonprofit Leaders: A Survey Conducted by Ventureneer, August 2009 also finds that going online is a popular way of taking seminars.
According to Entrepreneur Magazine, in 1975, about 100 four-year colleges and universities offered entrepreneurship programs. Now, more than 500 have them and 300 community colleges offer some kind of entrepreneurship degree. Based on the results of Ventureneer's survey, it appears that most degree programs are not addressing an entrepreneur's need for lifelong learning.
Whether it's cost, time commitment, course focus or another reason, it's clear that small business owners prefer to do their learning through seminars and workshops. No surprise that a greater percentage of struggling entrepreneurs take seminars both in person and online. Struggling entrepreneurs are much more likely to take in-person seminars than those that are more successful. Small business owners are also beginning to participate in peer-to-peer advisory groups (CEO Roundtables and Mastermind groups) online.
"We are facing a transition, and we must take this opportunity to provide today's students and entrepreneurs with the tools and the thinking that is required for the future," said John T. Chambers,chairman and CEO, Cisco. He continued, "Collaborative technologies can fundamentally transform both how we teach and learn. We need to harness the power of the Internet and these new technologies for creating and sharing knowledge that will prepare students with the skills to compete in the 21st century." (World Economic Forum)
How do you like to learn what you need to drive your business forward… seminars, networking, conferences / trade shows, peer-to-peer groups, undergraduate business courses or MBA courses? Do you prefer learning in person or online?