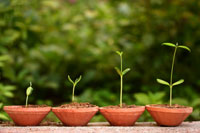 Don't Grow Just to Get Bigger, Grow to Get Better
back
Growth capital is a great thing, but don't go after it unless getting bigger will also mean getting better. That was my takeaway from the "Readiness to Scale."
To know if you should be thinking about growth or replication, re-examine your theory of change and ask yourself, "If I get to this level and scale, how will things be different? Will that difference be good for the people we serve?"
You need to have an outcome in mind: How will we benefit from this investment? And be precise! This is your future here.
Such was the conversation among panelists Melissa Berman (Rockefeller Philanthropy Advisors), Paul Carttar (Corporation for National and Community Service), Charles T. Harris (SeaChange Capital Partners), Greg Dees (Duke University) and Vaness Kirsch (New Profit, Inc.) as they discussed the need for capital investment in nonprofit growth.
Tapping the right people, the well-known billionaires, could triple the capital available for philanthropy, so they said, but added that nonprofits need to stop talking about "overhead" and start talking about "operating budgets."
A small point but psychologically profound. "Overhead" has negative implications, as if it is something that should be pared and minimal. "Operating budgets" is positive, the cost of staying in business, the cost of doing business, the cost of action. I like this vocabulary tweak.
In the past, panelists said, philantropists have used their donations to build a legacy in their name. It was all about naming. Now, it's about collaboration. Wealthy people fund things with other wealthy people; they build a philanthropic group and, by pooling assets, the group can fund more. The ego involvement is somewhat less because people aren't looking to be the lead, to have their name in bronze.
But these are business people. You have to be able to prove effectiveness. The money will go to those nonprofits that demonstrate results. The trend is toward evidence, data, and tracking how the money is used.
As to government funding, this administration is absolutely about using and improving evidence of success. It wants to direct money to those who have evidence on which funders can base their confidence that their donations will be effective.
H-m-m. Do these funders, both government and private, know that getting such evidence takes money? Will they be willing to add to "operating expenses" so we can hire people to run the numbers and keep track of outcomes? Will they fund the software and technology that we'll need?
While the American mindset is to think "bigger is better," not every nonprofit deserves growth capital nor can they put it to good use. But many do. To get capital to flow to the organizations that can get better by getting bigger, panelists brought up several ideas:
The board needs to put in place the processes you'll need as you grow.
Recruiting talent is the big challenge, especially development directors. Board members can give strategic assistance and build the infrastructure to support these positions and the organization's growth.
And Melissa Berman made an important comment: Venture capitalists invest in a portfolio of companies because they know that, even with the best due diligence, some companies will fail. You are not always going to be right. Philanthropists need to donate, and be wrong. Failure happens; not everything is going to work.
Again, a for-profit concept that is needed but ignored in the nonprofit world. Let's remind donors about this from time to time.
For complete coverage of the 2010 inaugural Social Impact Exchange Conference: Taking Successful Innovation to Scale, go to Ventureneer SIEX10.