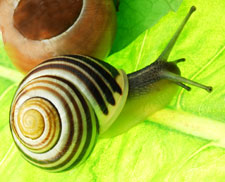 Don't Be in Such a Hurry! Slow Growth May Mean Long-term, Sustainable Returns
back
Jana Francis and Rett Clevenger launched Steals.com in April of 2008, well before the rise of Big Boy daily deal sites, like Groupon and Livingsocial. Compared to Steals.com, Groupon and other's product offerings are "a mile wide and inch deep," said Francis.
Steals.com markets to women. It builds on the way women shop and what they want from an online merchant. It is an example of carving out your own niche rather than trying to duke it out with bigger, better financed competition. And, as I've written before, customer service rules.
Marketing to women is a growth market and gender-awareness can pay off, as others are finding.
Steals.com is really four websites that each target very specific women-dominated niches: BabySteals.com, KidSteals.com, ScrapbookSteals.com, and SheSteals.
Instead of bombarding potential customers with lots of deals every day, each site only offers two deals a day, products are in stock with same-day shipping, and products are highlighted in a way that showcases their boutique-quality.
Importantly Steals.com has built a community of people who come to the site on a regular basis. Merchants who sell their products via Steals.com have become real fans of this approach. Oh, yeah, Steals.com was also profitable very early on.
Like Groupon and other sites, Steals.com offers deals but there the similarity ends:
Groupon and other sites sell vouchers; Steals.com sells products.
Other voucher sites rely on suppliers to fill the order and so have no control over the customer service experience. Steals.com is the supplier and so can protect its brand.
Rather than aiming at a general market, Steals.com targets a particular market — women, mothers, scrapbookers — so every deal is relevant to the customer.
Because the market is so clearly defined, Steals.com is more aware of its customers, not just its sales. It has a robust online community and personal engagement with its customers. It's going for sustainable, not just high-growth in the short-term.
Of course, with only 74 employees, Steals.com is a much smaller company than the 10,000-employee Groupon. Steals.com started with a mere $5,000 investment from Francis while Groupon got nearly a billion in just one round of financing.
Francis and Clevenger deliberately chose not to take outside money because they didn't want to be forced into high growth strategies that required heavy spending on marketing activities, such as Google ads. Not that there is anything wrong with Google ads. Both Francis and Clevenger became experts in this marketing tactic when they worked for others. It's just that the ads are expensive and require a lot of upfront cash.
Hindsight is 20/20. It looks like the planned slower-growth model of Steals.com versus the hyper-growth model of Groupon and others may be the right model. In fact, growth wasn't really slow: 0 to 74 employees in four years isn't slow.
Consumers are cooling to the Groupon approach. Website traffic for Steals.com grew 9% this May and June over last year compared to a 10% decline for Groupon. It should also be noted that Steals.com grew during a period when it was reorganizing its websites.
Now that Steals.com has proven the effectiveness of its strategy, perhaps investors will realize the value of the slower, more profitable growth model Francis and Clevenger chose and back them — and other slow but steady businesses — by investing in them.
I'm all for scaling successful business models, but I wonder if our desire for immediate gratification and big payoffs is blinding us to more solid, long-term return on investments.
Which do you think is better? Fast growth and, maybe short-life? Or slow and steady, long-term return?