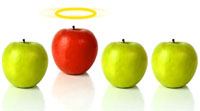 Distinguish Yourself From The Competition: Be Nice!
back
It's always gratifying when principles you've espoused for years are echoed by other, successful business people. As you know, I'm an advocate of treating
your employees
and your customers well. (Check out
my eBook
for more about that.)
So I was delighted by an article in The New York Times about Danny Meyer, a very successful New York restaurateur who is now teaching a class in how to succeed by treating your employees and your customers well.
His message is clear: Even if you don't have better prices than the Big Box store, even if your selection is a bit less expansive, if you treat people well, they'll come back because: People like to feel important, cared for, and seen.
For customers to feel important and cared for, you need well cared for employees.
So an easy way to distinguish yourself from the run-of-the-mill restaurant, stationery store, bookkeeping service, or other business in your sector is to have employees who care about what they do because they are making a decent living, are well trained and treated with respect.
Meyer takes it one step further: Make sure your employees treat each other with respect. That includes helping each other through bad days. That also means that compensation, scheduling and promotions have to be fair and consistent. In turn, your employees will:
greet customers with sincere smiles and service instead of standing in a clump around the cash register, gossiping and complaining;
listen to customers so they can find what the customer needs or suggest useful, reasonable options;
project positive vibes – yes, that does sound new-agey but it's true! – that will make customers feel good as they browse, so good they may be more inclined to make that impulse buy and recommend your store to their friends.
And customers notice how the owner of a business interacts with employees as well. Count on it! I know two people who – in separate decisions about different businesses – stopped frequenting their favorite cafe because the owner (or manager) yelled at employees.
It's embarrassing to eat your sandwich while a minimum-wage employee is being chewed out.
Customers treated well in a friendly environment will keep coming back and, remember, that a return customer is a lot less expensive to maintain — good service, a friendly wave — than the new one you have to pull in with a full-scale marketing campaign.
Another friend shops often at the corner grocery, despite its higher prices, because the staff know her, ask how she's doing, and notice when she's been out of town. She's spending extra money because she likes being known.
She's not unique.
Competition is fierce as more and more chains move into towns across the country. But you can stand out and keep your customers if you recognize that employees and customers are people, not things. They have lives, faces, ideas, and needs. Really see them and they'll see you as a great place to shop.
What techniques do you use to keep employees happy? Customers? Have you seen results from your efforts?