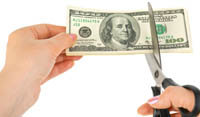 Creative Health Plan Cuts Costs, Protects Employees
back
"We're fighting for workers rights, for health care. We have to take care of our own staff," said Sondra Youdelman, executive director of Community Voices Heard.
That attitude and a willingness to explore non-standard cost-cutting options allowed CVH to prune its budget without cutting full-time staff or benefits. It's an approach that can work for small businesses as well as nonprofits.
CVH is a membership organization for low-income people, predominantly women who have been on welfare. The group works to improve the lives of families and communities through advocacy. It fights for fairness in public housing and in jobs, among other things.
Budget shortfalls in 2009 brought the board face-to-face with a familiar dilemma: Employee costs had to be cut, both salaries and benefits.
Benefits meant health benefits. After much discussion at staff retreats, CVH came up with a creative solution that takes advantage of its staff demographics.
A high-deductible health care plan was chosen, sharply reducing premiums. But employees were protected from increased out-of-pocket health costs because the agency also agreed to pay the full deductible for all employees.
It's a plan that takes advantage of staff demographics. Most of the 13 full-time employees are young and don't use health care. A few have ongoing medical needs and some have occasional needs. An organization with older staff or staff with children might not be able to take this approach and if the demographics of the staff change, it may not work in the future. But it is working now.
Youdelman and her staff found out a lot about health insurance options before putting together the package. A lot of research went into the plan that staff presented to the board.
As of the end of June, half-way through the year, costs for health care benefits were 36 percent of what had been budgeted. "It's turning out to be the right approach," Youdelman said.
It's the right approach because it protects employees as well as cutting costs.
The second cost-cut was to furlough employees for two weeks. Some staff members, those who could go a week without pay, looked forward to a week's vacation in August and another in December.
But staff meetings revealed that not everyone had the money to carry through a week without pay. Options were proposed: stretch the lost days out over several months; furlough during a month that had three pay periods.
In the end, five furlough days were spread over five months and the agency will close for a week in December. The long lead-up to the week without pay gives staff members time to save up for the week without pay, Youdelman said.
So effective were its cost-cuts that a bonus was given to employees. It wasn't as much as the lost week of pay but it was something.
Again, it was a staff-generated solution.
Two lessons here: "Working with staff works" and "explore all options."
Of course, another lesson could be added: For nonprofits, charity begins at home. And for both small businesses and nonprofits alike, home is where your employees are.
Do you know of other creative cost-cutting measures? Or ways in which employees have helped an organization get through hard times?