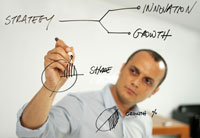 Conference Starts With Reality Check: We Need Growth Capital System
back
Nonprofits spend too much money to raise money, according to Robert Steel, chairman of The Aspen Institute. It costs nonprofits 3 to 4 times as much to raise money than it costs for-profits. Steel, who advocates a pragmatic approach to problem-solving, was the keynote speaker of the Social Impact Exchange Conference on Scaling.
His message was that to lower the cost of capital, nonprofits need to develop a process for raising capital that is organized and efficient. In other words, professionalize the process.
And now's the time to do it: The world is more accepting of the overall philosophy that nonprofits need a system to raise capital and Washington DC is emphasizing scaling.
Great nonprofits that have proven track records of success, such as Jumpstart and Teach for America, have trouble finding growth money. It's not because their leaders lack passion or expertise, Steel said. It's because the process is tortuous.
He called for the professionalization of raising money, a concept that many nonprofits shy away from. For-profit capital markets tap a well developed group of investors who have money ready to spend. Nonprofits need to develop a similar base of both investors and individuals who are willing to provide multi-year funding. It will take time to do so but Steel had suggestions for getting started. His suggestions fell into two areas, the global and the specific.
In order to attract growth capital, nonprofits need to have:
clarity of mission
strong management
good governance (in both fundraising and running the organization)
measurements (specific metrics, regular schedule, used to shape programs)
More specifically, presentations should be like a presentation to an investor: 25-30 slides, 20 minutes, with a professionally prepared prospectus.
The market for these professional presentations is, Steel said, the first generation philanthropists who have been successfully tapped by colleges and universities. Copy their playbooks, he said, because 60 to 80 percent of funding comes from these wealthy people.
Know them

Keep in touch with a professional approach

Seed to make the future happen
My reaction? Yes, we do need a system to raise capital for growth but in order to professionalize, we have to made donors, foundations, and rating agencies aware that it takes money to raise money. That's been an ongoing problem in raising both operating and capital funds for nonprofits. But I am heartened to have a person who's been Undersecretary of Domestic Finance in the Bush administration recognizing our need and helping the cause.
For complete coverage of the 2010 inaugural Social Impact Exchange Conference: Taking Successful Innovation to Scale, go to Ventureneer SIEX10.