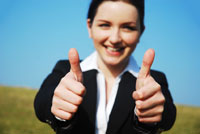 Competition Helps Women-Owned Businesses Plan for Success
back
As many of you know, I enjoy mentoring, coaching, and serving as a judge in business plan competitions. Competitions that guide entrepreneurs in their preparation for the competition provide enormous value to those seeking angel and venture capital as well as to nonprofits seeking grant money. By the end of the competition, the proposed enterprises have been tweaked and vetted so they are better able to attract the support they need, and are more likely to succeed.
Springboard Enterprises is the most comprehensive program I've been involved in.
Sorry guys, this is for women only.
Why women only? Because the advancements made by women-owned businesses have not offset the disadvantages experienced by women entrepreneurs.
The good news first: the number of women-owned businesses has grown at twice the rate of men, according to a recently released report by the Commerce Department on Women-Owned Businesses in the 21st Century. There are now 7.8 million women-owned businesses that represent 30 percent of all businesses in the U.S. and that have added jobs for 500,000 workers during a period in which firms owned by men shed almost 2 million jobs. The better performance of women-owned firms is partly due to the different industries to which women and men are attracted. Women are more likely to own healthcare and education services companies and men manufacturing. Given the unemployment rate, this is critical information.
Yet, on many other measures, women-owned businesses lag behind their male counterparts. Women-owned businesses are more likely to be smaller and fail, have lower levels of financial capital, use less outsider debt, generate less revenue, and pay their workers smaller salaries. Again, to some degree this is partly due the industries to which men and women are attracted. Women are more likely to own healthcare, education, personal and retail services. On the other hand men are more likely to own manufacturing and construction.
From my experience as a female serial entrepreneur, as a 8-year member of the board of the New York City Chapter of The National Association of Women Business Owners, and as the founder of a company to help women-led businesses grow through education and support, I think I know why the statistics are the way they are.
Women have a harder time taking risks. We like things have to be perfect. From what I've learned through the years, entrepreneurship is messy and imperfect.
When less than 5 percent of women-owned businesses get venture capital, something needs to be done. Springboard has been mentoring women-led businesses and connecting them to angel and venture capital since 2000. Their process is intense. To select the most promising female entrepreneurs, they review an online application and business plan, and conduct in-person interviews.
Those who make the cut attend an intensive bootcamp. Entrepreneurs are assigned coaches who help them create investor presentations and perfect their business plan. I helped critique presentations during a "dress rehearsal," held two weeks before the competition. Some presentations needed a lot more work; others just some tweaking. Amy Millman, Springboard's president, thinking about all the dress rehearsals she's attended, commented that it is common at this stage for entrepreneurs to still be making major refinements to their presentations but, by "opening night" virtually all will turn in star performances.
The competition, AllThingsMedia: 2010, will be held at the Paley Center for Media in NYC on October 20. It is focused on women-led emerging media and entertainment companies.
Do women-led businesses need an extra leg up to achieve their promise?