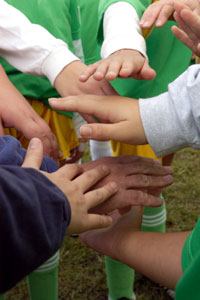 Collaborating, Attracting Investors, Learning: The Road Ahead for Nonprofit Leaders
back
Times they are a changing, as the Bob Dylan song said. Underlying all the presentations at the Social Impact Exchange Conference on Scaling were two big ideas: collaboration and private investment.
I'm a great believer in working with others; it's a tactic I espouse every chance I get. But I am aware that not every opportunity to work with another person or organization is an opportunity to grow and succeed. As pointed out at the conference, collaboration can be as simple as co-sponsoring an event or as complex as a merger.
Whatever the level of involvement, all parties must exercise discretion, be clear about their goals and resources, communicate, and evaluate every step of the way.
It takes skill to collaborate; nonprofit leaders will need to learn those skills, hone them, and use them.
As to private investment, that, too, is a good thing when done correctly. But as we've all seen with charter schools, it can create problems as well as opportunities; it can raise questions of transparency and accountability.
Again, all parties need to be absolutely clear about their goals and priorities, conduct their due diligence diligently, and make sure accountability and transparency are built into any public/private partnership.
Nonprofit leaders will have to learn new skills, including how to attract investors and work with the for-profit mindset, without losing control of the nonprofit mission.
Underlying both of these is the need to learn a new culture, one with its own language and priorities, as some nonprofits have already learned as they worked their way through the SIE competition. Can you develop a business plan that takes the "competition" and investors into account, that has measurable outcomes when profit isn't one of them?
Funders and individual donors will also have to be re-educated to support realistic costs of doing business and to accept some failures on the road to great successes. How do you think like a business person, accept risk, spend money to make money, and maintain your mission as the top priority?
Hard questions.
We will have to learn from pioneering peers and develop processes for undertaking solid, well designed, collaborative, privately funded efforts in a way that maximizes social impact while retaining the confidence of donors, civic leaders, and clients.
We'll have to draw a map and choose our route carefully.
Ah, well. I've always said that life-long learning is a must for nonprofit leaders. Now we have a clearer idea about what the topics will be.
What did you take away from the Social Impact Exchange Conference?
For complete coverage of the 2010 inaugural Social Impact Exchange Conference: Taking Successful Innovation to Scale, go to Ventureneer SIEX10.