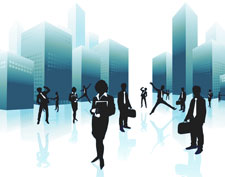 Business Plan Competitions Have 4 Ingredients for Successful Social Enterprise
back
What do investors know that donors don't? They know that the right team is critical to growing a thriving organization.
There's no shortage of good ideas for solving today's most pressing social and environmental challenges. However, there is a shortage of people who can successfully implement those ideas. That's why business plan competitions in the nonprofit and social enterprise space look for both good ideas and a strong team.
Sure, competitions can fill the pipeline with innovative ideas by providing seed funding but, without the second ingredient, chances are a great idea will not succeed in the long term. You need smart, capable, flexible, and resilient leaders. No matter how good your idea, you're going to bump into obstacles along the way. Without experience and the right skills, how will you meet and overcome these challenges?
Echoing Green has a 35-year track record of successfully nurturing organizations, such as Teach for America, Freelancers Union, and College Summit. While one third of Echoing Green fellows are not financially sustainable after finishing their two-year program, many have become the most respected and influential social enterprises in the world, according to Scaling Your Social Venture: Becoming an Impact Entrepreneur (Social Entrepreneurship). It is this success that attracts individuals to enter and organizations to run business plan competitions.
The importance of leadership is so critical to one business plan competition that it has been renamed to reflect that value. "We renamed our fellowship the 'Dual Investment Program' because we invest financially in the venture as well as investing in the development of the leader," said Lisa Lepson, Executive Director, Joshua Venture Group (JVG). The group uses the business plan competition model to spur ideas for social change in the Jewish World,
Every competition should choose its own criteria for evaluating leadership skill, but to spur your thinking, here's how JVG did it. "We assess not only the skills and experience of the applicant, but also their ability to excel in competencies that we've identified as critical for success in social entrepreneurship, competencies such as action-oriented, interpersonal savvy, the ability to deal with ambiguity, and self-awareness … We need to feel comfortable that the applicant is the leader who is capable of navigating the extremely challenging road of an early-stage social change organization," explained Lepson.
Given the weight that JVG places on leadership abilities, it's no surprise that winners of their recent competition were not kids. They range in age from 30 to 48. Their social enterprises express the depth and breadth of the their personal experience as well as how they want to make their mark:
Matt Bar, Bible Raps, uses hip-hop music to breathe new life into the teaching of core Jewish texts.
Rabbi Sarah Bassin, NewGround, builds collaborative relationships between young Muslims and Jews.
Sarah Blattner, Tamritz, incorporates new media as a powerful educational tool.
Hyim Brandes, Online Jewish Academy, increases access to Jewish education in day schools, informal settings, and online.
Risa Alyson Cooper, Shoresh's Bela Far, creates a self-sustaining, agriculture- and land-based Jewish social enterprise.
Steve Eisenbach-Budner,Tivnu, Building Justice, promotes social justice and affordable housing as Jewish values.
Sara Heitler Bamberger, Kevah, catalyzes and supports a grassroots Jewish-learning movement.
Elana Naftalin-Kelman, Rosh Pina, advocates for individuals with disabilities by guiding Jewish institutions to become inclusion-certified.
There's a third ingredient that many business competitions provide to ensure success: technical assistance. Investing in the early stage of an organization is risky business. Just as babies need more support, early-stage organizations need more support in their infancy, too. As with babies, the better the support, the more likely the infant will thrive as an adult. Support for startups takes the form of money, access to networks, and guidance.
Winning a competitions provides another essential ingredient beyond money and support. It gives an organization credibility, and gives future funders and allies confidence in the quality of your idea and team.
So there you have it: Business plan competitions bring out good ideas, find good leaders, provide early-stage support, and increase credibility. With those four ingredients in place, success is much more likely. And isn't that what we need for social enterprises?
How can you use the business plan model to fuel innovation in the sector that you work in?