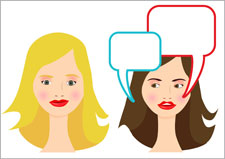 Build a Better Business by Listening
back
Building relationships is key to building a thriving business. The right relationships can help you:
enter new markets
expand product offerings
source suppliers and employees
spot challenges
grow the business
For one woman entrepreneur, listening has been fundamental to building the relationships that helped grow her business.
Cristina Mariani-May, Co-CEO of Banfi, a family winery, credits her success to her ability to build relationships by listening. As Mariani-May says, listening is a powerful advantage for her nearly 500 employee, international, family-run wine company.
What is a "good listener?" It's an attentive one, someone who pays attention not to just what is said but how it said and takes into account nonverbal communication as well. Body language provides cues to what is really being said.
Mariani-May has applied her listening skills so well that Banfi now distributes wine in 90 countries. If you want to unlock the opportunities of the global economy, talk to its people, she says. Of course, she prefers to do this over a meal accompanied by a glass of wine.
Such conversations are not just about learning local regulations for importing alcohol. You need to understand what motivates people culturally and individually. Developing trusted relationships has other benefits, including referrals and a shorter path to reliable vendors and employees.
Mariani-May uses the same listening approach when seeking brands to import into the U.S. Again, it's about listening and understanding what motivates people, understanding how they do business, and determining if you are a fit for each other.
Mariani-May is the self-proclaimed mother hen of the family. Several years ago, she heard squabbling between family members who worked in the business and those who didn't. She was concerned, Only about 30 percent of family businesses survive into the second generation, and just 12 percent make it to a third, according to the Family Business Institute.
Mariani-May brought everyone together with the help of outside experts — Family Business Consulting Group. The family learned that it was going through a normal transition for a third-generation family business. They also learned that there are tried and true practices for working things through.
In addition to networking through her college alumni networks (Columbia and Georgetown universities), Mariani-May has other ways she listens. She recently added a board of advisors. They're not necessarily from the industry, but they all share a passion for wine. They provide objective advice and insights into the marketplace.They have expertise in finance, marketing, and other strategic areas important to the Banfi business.
If listening is your strength, use it to your advantage. If it's not, perhaps it time to cultivate the skill. It is learnable.
Other Forbes articles on listening you might like are: