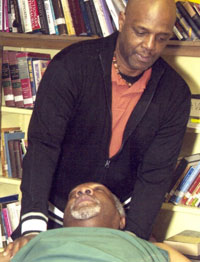 Boomer Builds Business Through Support
back
Prelude to the Road to Entrepreneurship
I teach Entrepreneurship at The New School. The class is a mix of matriculated and non-matriculated students. They range in age from 18 to 65 years of age. They take my class for a variety of reasons: some have a business idea; others have entrepreneurial instincts and want to see if they can generate an idea for a business; still others are just curious.
From time to time, I'll give you examples of the road to entrepreneurship by interviewing students and profiling their entrepreneurial journeys.
The New Thirtysomething: Your 50s and 60s
After working for 25 years as a life insurance agent, Camilo Brooks could have retired. Things would have been tight, but he could have managed and, in just four years, Social Security would start coming in to ease his budget.
But, like other baby boomers, he wasn't ready to hang out in the park all day and he wanted a little extra income.
Boomers are starting businesses at a higher rate than any other age group in the U.S., according to a recent study by the Kauffman Foundation, which researches entrepreneurship.
So when Camilo first retired, he became a personal trainer, then a bodyworker. Camilo has spent the last 10 years studying bodywork, sometimes with others, but mostly alone.
Bodywork is any therapeutic technique that involves some form of touching, energy work or the physical manipulation of the body for healing purposes. Massage is one form of bodywork, but so are the Feldenkrais method, Rolfing; the Alexander technique, chiropractic, and osteopathy. Any activity that involves touch, energetic stimulation or the application of pressure or vibration to tissues of the body, including muscles, connective tissue, tendons, ligaments, and joints is considered bodywork.
For awhile, being self-employed for Camilo was good enough. He had the supplemental income he wanted, but he wasn't fully engaged in the effort, at least not until inspiration hit. As he learned more, he developed his own bodywork technique that incorporates sensing the client's breath and heart beat to diagnose what needs to be released and how: Camilo Bodywork Systems.
Realizing that a good idea was not enough, Camilo headed back to school to brush up on business basics. Mine was not the only course he took. He has also learned to use a computer. Whoever said you can't teach an old – well, maybe not old, but middle-aged – dog new tricks, didn't know Camilo Brooks.
Support is Key to Moving Any Vision Forward
Despite his enthusiasm and hard work, Camilo still has his fears, gets stuck, and doesn't move forward as quickly as he'd like. He has wrestled with wanting a life of leisure, but knows that, ultimately, such a life won't fulfill him. For him, developing the Camilo Bodywork Sytems into an accepted discipline is a calling. He views it as his responsibility to let others know about it. Sure he'll make money but, for him, it's about doing what he loves.
To deal with these doubts and road blocks, Camilo availed himself of another important business resource: peer support. He surrounded himself with others who are starting businesses. They provide encouragement and advice, and hold each other accountable. But, Camilo confessed, he still was not doing everything he could to ensure that his vision becomes a reality.
Developing a new bodywork discipline and practicing it himself aren't enough, Camilo will be taking the next step: getting support from professional colleagues. He has decided to join and become active in the American Massage Therapy Association. If other bodyworkers don't know about his technique, the discipline won't spread. And he wants it to spread: That's his calling.
Camilo is learning first-hand that entrepreneurs need support; it's a necessary component of success. Yes, they need vision and perseverance and new skills but even with all that, they can't do it alone. In fact, he is a living example of my mantra: support, support, support!
Camilo bared his soul so you could learn how he's dealt with obstacles. Now it's your turn to share.
What blocks you from moving forward? What gets you unstuck? How have relationships with peers, colleagues or professional advisers helped you?
Photo: Camilo works on the Rev. Dr. Johnny Ray Youngblood, Current Senior Pastor at the Mt. Pisgah Baptist Church and former Senior Pastor of the St. Paul Community Baptist Church