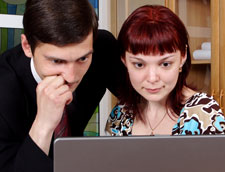 Board Service Enhances Leadership Skills of Business Owners
back
Let's face it: When you're the head of a small business, you want to develop your leadership skills and, if you are like most entrepreneurs, contribute to your community. What if you could do good and beef up your leadership skills at the same time? As a business owner, you have more than money to contribute. Being on the board of a nonprofit is great way to give back. It is also a great way to improve your leadership skills.
Many big companies recognize that being on nonprofit boards builds "soft" leadership skills. They pay for rising stars in their companies to go through nonprofit board training and encourage nonprofit board service, according to Nicole T. Sebastian, deputy executive director of VCG Governance Matters, which places people on nonprofit boards.
Founders of small to mid-sized companies also recognize the importance of board service as way to improve their leadership skills. Many successful entrepreneurs — some pretty big players —credit their success to integrating nonprofit work into their business plan.
Decision-making on a nonprofit board require building consensus, a very different skill from influencing someone who reports to you. Learning how to work within a group of equals is particularly useful when the time comes for your small business to form alliances and partnership.
In your role as a business leader, you go with your strength and delegate others to take over in your weak areas. On a nonprofit board, you can join a committee outside your comfort zone, one that doesn't draw on your core expertise but can expand your skills and knowledge.
Barbara Nagel is a partner at Perlman + Perlman, a law firm that specializes in working with nonprofits and social enterprises. She has been on several nonprofit boards and is now on the boards of Arts Engine, Grove With Me, and the Alpern Family Foundation.
"Learning to work in a collaborative environment has made me a better problem solver," Nagel says. Her experience on boards has shown her the value of getting a range of perspectives in order to develop better solutions for her clients. As a result, she seeks out opinions from business people, accountants, and other lawyers, especially younger ones who have a different worldview.
Nagel cites another benefit of being on a nonprofit board: building connections with peers, as a mentor or mentee, with role models and, yes, even developing friendships.
Nagel and Sebastian concur that the personal satisfaction from serving on a nonprofit board also makes you more effective professionally.
Ultimately, being on a nonprofit board is like any other relationships. You need to have good chemistry, according to Sebastian. Make sure you're passionate about the nonprofit's mission and the type of challenges they're facing. You don't want to get involved with a nonprofit facing a leadership crisis if you don't have the stomach for bumpy transitions.
As always, the devil is in the details. When thinking through whether a nonprofit board is right for you, ask about:
time commitment (not just board meetings, but committee meetings and attending other events)
where and when meetings are held — they need to be relatively convenient for you
financial commitment, both give and get
onboarding and mentoring offered
committee structure and where you might fit in
the good, the bad, and the ugly: What challenges and opportunities the organization is facing that you can sink your teeth into?
Think you might like to expand your horizons and broaden your skills? Then check out:
These organizations not only make matches between aspiring board members and nonprofits; often they offer training so you go on board ready to get to work.