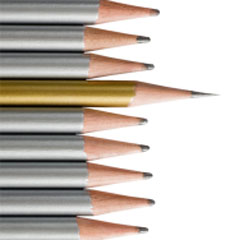 Another Nonprofit Learns the Value Of A Business Plan
back
Editor's Note: This is the first in a 7-part series on Developing A Growth Business Plan. The series is based on presentations made at the Social Impact Exchange Symposium on Scaling Impact held June 14 and on the experiences of nonprofits that participated in the business plan competition.
The more a nonprofit learns from successful business practices, the more likely it is to be successful, according to Brad Joutras, director of development for Reading in Motion (RIM), one the competitors in the Social Impact Exchange (SIEx) 2011 Business Plan competition.
I was the business plan coach for RIM so I've had a first-hand view of their process through the competition. I can only echo Brad's observations.
Brad got his MBA but never had the intention of "going corporate." He wanted that business sense, an understanding of how planning and finance work, so he could apply them in the nonprofit world.
"Financial planning is not a strength in nonprofits," he said. Most rely too heavily on one funding stream, often the government. The SIEx11 competition brought financial planning into focus for the whole organization, he said. It made the board and the development staff think about such things as "competition" and "barriers to entry."
"Competition" for nonprofits isn't about getting rid of the other guys trying to solve the same social problem – low school success – that Reading In Motion does. It's about avoiding redundancies and building alliances. As Joutras said, "How do we differentiate ourselves? If we can't, what does that mean?"
In the process of doing the business plan, RIM delineated its distinction: A laser focus on kindergarten and 1st grade that provides more hours of contact with teachers and students than other programs.
Looking at the competition also made RIM aware that it was really competing for the time of teachers and principals. It has to offer value that is not offered by other programs.
On the other hand, those other programs aimed at literacy may be potential partners in the effort to add value. RIM is now talking to organizations that donate books to schools, to see if they can coordinate donations with the resources needed by RIM teachers.
"It is the first time the organization ever looked outside itself in a serious manner," he says. " We learned."
Barriers to entry was a concept new to RIM. Its barriers are not what businesses traditionally think of as barriers to entry, such as patents, government regulations or other external factors. But external barriers to success for nonprofits do exist. Dealing with those barriers is part of a good business plan. In RIM's case, the external barrier was the reluctance of school administrators to enroll 2nd and 3rd grade classes. Perhaps too many other programs were competing for teacher time. Whatever the cause, that reluctance, coupled with research supporting a focus on kindergarten and 1st grade, changed the program.
The current plan also emphasizes sustainability and self-reliance rather than never-ending involvement by RIM. Each school in the program will receive three years of intense training for kindergarten and first-grade teachers. Not only will teachers learn how to implement the RIM program, they will also learn how to pass that knowledge on to others. After three years, the school will continue the program on its own while RIM moves on to other schools.
Measures will be put in place to insure that 1st graders continue to reach grade-level reading. RIM will come back in to do refresher courses for teachers, if needed.
Data collection is "part of our DNA," Joutras said. Third-party tracking data was a large part of the RIM business to monitor success. If scores don't increase when the program is implemented or drop after RIM leaves, RIM will reassess and tweak the program as needed. Data collection will also keep track of program success when replicated in school districts outside the Chicago urban area.
The business plan competition helped RIM, Joutras said, by giving the board and development staff a solid base on which to grow. The philanthropic world, he said, is looking more and more for a logical, practical business plan to ensure the success of the programs they fund. RIM is there now, ready to present a solid plan along with data supporting its ability to add value.
Why should nonprofits do a business plan. For the same reasons businesses should: Consider all the angles, all the problems, and focus your organization. What can a business plan do for a nonprofit?