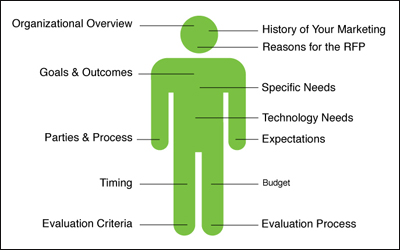 Anatomy of a Successful RFP
back
By Howard Adam Levy
Looking to redesign your website or upgrade your agency's branding and putting out a Request for Proposals (RFP)? Make sure you get the best consultant you can by making your RFP the best it can be. Consider this list of what to include gleaned from our 17 years of responding to RFPs.
1. Overview of Your Organization: Explain your mission, services, history and structure so that the consultant can understand what you do and determine if this is the right match. You want to attract someone who understands your issues and is compelled by your cause, so provide them with that information (this can be derived from your website, brochure or grant proposals).
2. History of Your Marketing: Your brand, website or campaign does not stand in isolation, Describe your current website, brand, or prior marketing efforts and what you have found successful and what you would like to address.
3. Reasons for the RFP: Explain what's precipitating the need for a new website or brand – whether it's operational, competitive, fundraising, move, merger or other impetus. The more the consultants know the better they can address your needs. And often, there are other issues that need to be addressed before or during the project to ensure its success.
4. Goals & Outcomes: A new website or logo is nice, but without a clear understanding of what you want to accomplish, the initiative will not move your organization forward. The RFP should answer the questions: What do you want the projects to accomplish and how will you know the project has been successful?
5. Specific Needs: Describe the particulars of what you are looking for. These can vary widely, as can the fees, For a branding initiative, explain the process or elements you are looking for. For a web project, describe the features or functions you want: from the type of calendar functions you need, what you want your online donation system to do, and the level of flexibility in updating the site. To paint a clearer picture, you can reference desirable features on other sites that have the functionality you want.
6. Technology Needs: For a website, interactive or online project, it is helpful to include all relevant technology issues such as: how your site is currently hosted and whether you want to keep that or not, programming languages you would want or not want, current databases used for you email campaigns, donor list, invoicing system or any other systems that might need to be integrated. For branding or other projects, describe what current applications or systems are used in-house and what type of integration you expect (for example, so your designer doesn't deliver only InDesign files when you use Word).
7. Parties & Process: Describe who will be involved in the project and what your work and approval process is. Will a subcommittee be formed to handle the project, who is the day-to-day contact, what is the boards' role in the project, and who has final approval? Address how you would like to work – whether in person, or online, any project management systems you have and potential key dates, such as board meetings.
8. Expectations: Different consultants bring different styles, so be clear on your expectations so that you can find the one that meets your needs. Explain what you are looking for in terms of work process, service delivery, communication, results or any other aspect of the project.
9. Timing: So you have neglected your website for 4 years, and now you want it redesigned immediately so you can pump up your fundraising efforts. Be realistic about how much time the process will take to actually do the work and to get input and approval from all parties in the process. And recognize that the schedule allowed will influence the cost.
10. Budget: It is very helpful to let consultants know your budget for the project. Most consultants and vendors tailor their services to your needs and budget, so asking what something costs will yield a range of rates which ultimately won't be helpful for you. It is best to determine your budget based on what you could afford and the value that the project will bring, and to then find the party that can deliver the most value for your budget.
11. Evaluation Criteria: Explain what criteria your will be using to evaluate consultants for this project. It takes a lot of time to develop a good proposal, so be fair to the consultants and describe what you are looking for – for example, whether sector experience or specific skills are required, if new solutions or ideas are valued, or if the budget or timing are the key priorities.
12. Evaluation Process and Timing: Tell when the RFP is due (prominently on the first page), who it should be submitted to, in what form (PDF, email, printed, presentation, etc.), how many copies, and the address to send it to. It is also respectful to describe your selection process and timing (for example: Proposals due June 1, Review of proposals and selecting 3 firms to meet with by June 15, Meetings with firms from June 15 – 25, Final selection on June 30).
A Final Note: Agencies sometimes ask for ideas or design solutions in the proposal (called working "on spec"). This is not advisable for several reasons:
• It is not common practice, other than in large advertising agencies which stand to make millions in commissions on advertising media (and even this practice is changing).
• Independent consultants and small firms cannot afford to work for free – their income is based on billing for their time and they can't afford to give that away.
• It is unfair to deny someone the right to a living, and a nonprofit, whose tax-exempt mission dictates that they work for the public good, undermines their own integrity by asking for others to do free work, particularly knowing that not all the firms' work will be used.
• From a practical perspective, it will not yield you the best results, since typically, the best consultants won't work for free, so you are likely to exclude them from the running.
• The best work can only be done with a fuller understanding of your organization and its needs. By asking for solutions without this full understanding, you rob your agency of the best ideas to serve its interests best.
If you are unsure of which consultant to choose, a common solution is to pay the finalists for some initial work before committing to the entire project.
Howard Adam Levy is Principal of Red Rooster Group, a marketing design firm that helps businesses and nonprofits build effective brands.