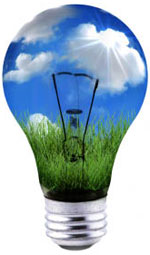 An Hour In The Dark to See The Light: What Can Your Business Do for Planet Earth?
back
A rolling, self-imposed brown-out, called Earth Hour – between 8:30 and 9:30 your time on March 26 – is meant to remind us all that we are the future of the environment … and the future is now. Don't just turn off your lights and sit in the dark for an hour. Think! Then post your ongoing commitment to the Earth at Beyond the Hour.
If you don't think there's much more you can do beyond recycling, reusing, and composting, think harder. As individuals and as business people, we can all do more. Here's some inspiration:
It all counts.
What additional commitment can you make to the environment this year? Any suggestions for the rest of us?