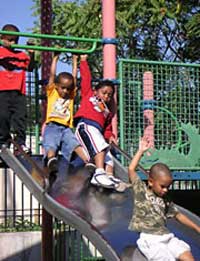 A Social Entrepreneur Puts the Fun Back Into Recess
back
Time was that "play ball" was not the cry you'd hear in low-income neighborhood. No matter that playgrounds offer children many benefits, from health (43% of kids are obese or overweight) to education to camaraderie. Many a low-income neighborhood just couldn't afford to build and maintain a playground.
Nonprofits have come to the rescue. You may have heard of KaBOOM!, which partners with volunteers and equipment manufacturers. It's a great model, but for liability reasons, not one that could be used in New York City.
Enter Andrea Wenner, a social entrepreneur. While a student at Columbia Business School, she interned at a consulting firm and became familiar with Take the Field, an organization that rebuilds athletic fields in NYC through public-private partnerships. She decided to apply a similar model to the building of school playgrounds.
Most – 85 percent – of Out2Play's money is public money from NYC Borough Presidents and City Council members. That money can only be used for construction. The remaining 15 percent, which covers administrative costs, comes from individuals, foundations, and sponsors. The Yankees and Nets are among the marquee contributors. Andrea is able to keep Out2Play's overhead costs below the norm by scrounging up donations of office space and pro bono legal services, among other things.
As with many startup organizations, it took awhile to get things cooking: No playgrounds were built in 2005, the year it launched. By 2007, things were cranking up. Andrea expects that in the next couple of years, Out2Play will have built all the playgrounds that need building in New York City.
She's not sad that she'll be putting herself out of work. She's excited that she'll be able to take on a new urban planning challenge.
Has anyone done such a good job at what they do they put themselves out of work?