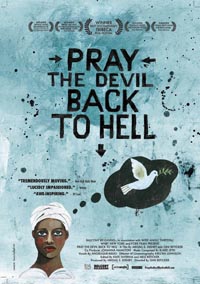 A New Disney Filmmaker Shows the Way to Social Responsibility
back
One Disney's Focus Morphs From Fantasy to Reality
While the name "Disney" may conjure up fantasy and happiness, Abigail Disney, the granddaughter of Roy Disney, knows that the real world isn't filled with cartoon characters and happy endings. She knows that the world is full of harsh realities – poverty, disease, terrible working conditions, and climate change – and she is using her financial resources and her talents to fight them.
On November 16, she was honored for the positive social impact her work has had, at the 2009 National Philanthropy Day, presented by the Association of Fundraising Professionals Greater New York Chapter.
I attended the luncheon at which Ms. Disney was interviewed by Carolyn Gusoff, an Emmy-Award winning journalist. As a child, Ms. Disney said, she was embarrassed by the privilege and pretense that came with her name and fortune. As an adult, she realized that the Disney name could be used as a tool to galvanize people around social issues. That realization transformed her into a social entrepreneur as well as a generous donor to nonprofit causes.
Inspiring Those Who Have More to Give More
Ms. Disney cited research conducted by the McClatchy Company, which shows that the less you have, the more likely you are to give. nonprofitThe poorest Americans give away double the percentage of their income that the wealthiest people do. Anecdotal evidence suggests that the poor give generously because they are more likely to feel the pain of the needy.
Ms. Disney would like to tap the social conscience of the wealthy and goad them into being as generous as the poor. A case in point: The New York Women's Foundation fundraising breakfast last May. While she doesn't like attending fundraising events, Ms. Disney understands their value as pep rallies. She hopes that by being a role model at such events, she will inspire wealthy attendees – and there are an awful lot of rich people out there – to open wide their hearts and wallets.
At the breakfast, she challenged those attending to give "stretch gifts," that is, gifts that stretched their wallets. Ms. Disney matched their donations. (The money donated went to the New York Women's Foundation and social change nonprofits.)
Cartoons to Documentaries: A Heritage of Filmmaking
While visiting Liberia in 2003, Ms. Disney was inspired to make her first movie Pray the Devil Back to Hell, which won the 2008 Tribeca Best Documentary award. The film tells the story of Liberian women who, fed up with the death and suffering caused by their country's civil war, joined together to protest the war. At great risk to themselves and after months of effort, the women persuaded the president and the rebels to hold peace talks. The women watched over the process. When the talks stalled, the women surrounded the building and threatened to hold the reluctant negotiators hostage until a peace agreement was signed. It worked!
Ms. Disney is now involved in producing a number of other documentaries with social themes, and is developing a four-hour project for WNET/Wide Angle called Women, War & Peace.
She is using the skill associated with her family name – filmmaking – to make an impact, to transform the pretense and privilege that bothered her as a child into social responsibility that can bring about change in the real world.
Not all of us can make the social impact that Ms. Disney can. Her resources are great so her impact can be great. But we all have resources: our time, our skills and, yes, our money and our businesses. We can all have an impact, however modest.
How do the people you know use their resources – personal or financial – to make a difference? Is there a business that you admire that makes a positive impact on your community? How do you make a difference?