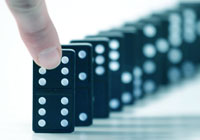 6 Simple Ways for Nonprofits, Funders to Make A Big Change
back
"Catalyze" is a great word, a great concept: to bring about or inspire change. It implies that a small action will cause other, bigger things to happen.
That's why the "6 Ways to Catalyze Change" list caught my eye. It was put together by the NASSCOM Foundation, an organization based in India that uses information technology to improve people's lives. It reminds us all that simple things can make a big difference.
Some of the catalysts listed are India-specific but their principles can be applied worldwide.

1 ~ Register for free software: I've mentioned this before in Nonprofit Leaders Need to Be Nimble in 2010 but it's worth mentioning again. Organizations such as TechSoup Stock have free or discounted software for nonprofits. The right software can increase your productivity. In this Internet-based 21st century, that's a truism nonprofit funders need to consider as well. NASSCOM subsidizes software for its grantees. Think about the ripple effect of that!
2 ~ Encourage employee volunteerism: Employees who volunteer develop new skills and feel better about themselves and their work. All of these benefits reflect in their on-the-job attitude and in the image the community has of their employer. By encouraging their employees to volunteer – even during work hours – corporations improve their reputation for social responsibility and the nonprofits get the benefits of skills they might not otherwise afford. A website designed by a volunteer from a graphic design firm will have an impact for years, at little out-of-pocket cost to the firm.
3 ~ Participate in Corporate Social Responsibility forums: Anything that brings people together to brainstorm and discuss common interests is a good thing. Whether CSR officers from corporations or nonprofit funders and leaders, you will benefit from getting together to talk about how you can do more, meet challenges, and grab onto opportunities. To name a few: Governance Matters, New York Women Social Entrepreneurs, Idealist.org, and Change.org.
4 ~ Build capacity through collaboration: That's not how NASSCOM puts it but it's how I see their effort. NASSCOM has built a web of tech centers throughout India that are run by various nonprofits. In effect, a collaboration underwritten by the foundation. Not a bad model: Joining forces to increase effectiveness, the whole is greater than the sum of its parts, etc. … I like that.
5 ~ Target service where it will have the greatest impact: Again, not exactly what the NASSCOM model says, but the essence of it. NASSCOM targets services to young people and women because that is where the need is greatest and where the impact of a little service can bring great change.
6 ~ Build technology skills of governments and nonprofits: This is a direct call to make both government and nonprofit services more efficient and accessible. It's a call to funders to underwrite capacity-building and costs that may seem like "overhead" now but will pay off in the long run. The NASSCOM foundation offers workshops in everything from Technology 101 to accounting, presentations, and evaluation software. Again, I've discussed this need before, in Nonprofit Funding Standards Undermine Nonprofits. We all need to think long-term.
It's that old adage again, the one about teaching someone to fish instead of just giving him a fish for his dinner tonight.
How do you think funders can make a bigger difference in the operations of their grantees? Have you benefited from capacity-building grants? What other areas do you think grantmakers should focus on?