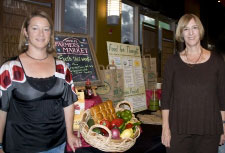 5 Ways Local Network Helps Small Businesses Attract Customers, Financing, and Government Support
back
Locally owned businesses in Santa Fe, NM, formed the Santa Fe Alliance to help the local economy. That was in 2003. Now, the Alliance has grown to be a major advocacy, education, and financial resource for locally owned business. Its growth and its effectiveness exemplify the power of networks for small businesses.
1 ~ Education: business-to-business connections for sales and for sharing best practices; government and consumer education about the multiplier effect of buying locally; education for businesses about tax credits and incentives for business to "go green."
2 ~ Partnerships: with government agencies, nonprofits, and colleges to support going green, local development, and living wages.
3 ~ Advocacy: Mayoral candidates have been prodded to talk about a living wage and laws to implement one across the board; the percent of government spending that is required to be locally sourced has increased; and candidates for local public office have been taken to task for buying campaign services outside their districts. (This is a big one: Think about campaign spending restricted as much as possible to the candidate's district, the local print shop for signs, local restaurants for catering: That's a sign of caring about the community!)
4 ~ Financial: "Move Your Money" program to get people – including a state legislator – and governments to move their money into locally owned banks; a bill to move the state's money to community banks is in the legislature now. The Alliance is working with community banks to make the small loans – $10,000 – that bigger banks disdain, and to get debt consolidation and gap loans for small businesses. Membership in the Alliance is looked upon with favor by the banks.
5 ~ Publicity: Events sponsored by the Alliance highlight local business, help them help each other, and bring in customers. Through its relationship with a local radio station, the Alliance has a 100 percent local radio show that also highlights local businesses.
It is all education, according to Vicki Pozzebon, executive director of the Alliance, and what a good job they've done! This small business network, which is part of BALLE (Business Alliance for Living Local Economies) has:
bolstered local businesses,
increased tax payments to local governments,
improved the lives of workers,
helped businesses cut their carbon footprints
And, in accomplishing the above, enriched the whole community.
Now that's networking! And proof yet again that the whole is greater than the sum of its parts. Sharing ideas and working together creates a force to be reckoned with.
Have you benefited from a network like Santa Fe's? Could your business or your community use such a network? Are you interested in starting one?
Photo: Santa Fe Alliance