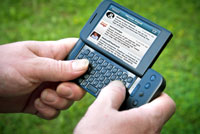 3 Steps to Increased Nonprofit Revenue in the 21st Century
back
Yes, it is the 21st century and nonprofit leaders who don't understand new technology may well find themselves left behind in the fundraising race.
The good news is: Much of the technology you need to use is inexpensive or even free. The bad news is: You have to learn a whole new way of thinking and of marketing. You have to learn how to work with the Internet and social media.
Both are rich resources for nonprofits. They allow instant communication with a broad base of people, easy ways to promote donations, and quick response when the need is greatest.
Don't be daunted: You can ease into online fundraising.
Joanne Fritz, writes the Guide to Nonprofits Charitable Orgs at About.com. She suggests a three-step approach to online fundraising. Get comfortable with one step before moving to the next.

1 ~ Make online donations possible on your website with a "donate here" button. You have to be able to accept a credit card and to manage a list of donors. The software needed can be provided by organizations, such as eGiving Online. Those organizations will charge a fee, of course. Check out several possible partners to be sure that proposed fees are not excessive and that the provider has a good reputation for service.

2 ~ Set up social media accounts. Social media give people another way to find you: through friends, co-workers, and causes they already support. Some social media sites offer extra services to nonprofits, such as Facebook's "Causes" links. Once you've gotten into social media, you can run an online fundraising campaign. And you can update an ever-increasing web of people about your activities and accomplishments. They, in turn, will pass the news onto others who might be interested: the ultimate in grassroots organizing.

You can also join in the corporate giving programs that use social media, such as Chase Community Giving, in which users of Facebook vote on which charities should receive grants from Chase. Twestival is a Twitter Festival, a means of using "social media for social good." You have to have a Twitter handle to join the party.

3 ~ Mobile phone texting is the latest, fastest, and apparently most lucrative step. Donors text a keyword and a code number. The cell phone carrier adds a set donation — $5 or $10 — to the customer's bill, puts all the donations together, and sends a check to the nonprofit. No one is entering their credit card number so security risks are minimized.

The downside right now is that mobile donations may take as long as 90 days to reach you. The other problem is that, under normal circumstances, setting up that code can cost $3,000 to $10,000. You have to publicize and appeal to a lot of people. In severe crises, such as the Haitian earthquake, many companies – including phone and credit card – waived their fees.
Fritz describes the astounding amount of money raised by the Red Cross for Haiti as the perfect storm: Almost everybody has a mobile phone and the 24-hour news cycle made everyone aware of the damage. I'd add that people have been trained in the last few years to use texting as a way to voice their opinions and take action. Think American Idol or the various ad campaigns that ask you to text a vote regarding some product or another.
Again, nonprofit leaders need outside help for this step. Companies, such as mGive, exist to provide this service. Of course, mGive charges fees but it also offers a wide-range of online giving support.
Fritz's most profound nugget of wisdom: "A good way to get started is to make sure you have young people on your staff or volunteers or call upon your own relatives." This is Millennium generation stuff. But they are the donors and volunteers of the future.
How have you used social media to raise money? Did it work? What did you learn from the effort?