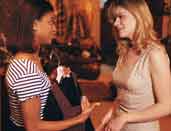 3 Rules for Surviving as a Brick-and-Mortar Store in a Cyber World
back
With online stores offering how-to videos, discussion groups, and a homey, we're-among-friends shopping experience, how can small brick-and-mortar businesses compete?
As the saying goes, if you can't beat 'em, join 'em. For small businesses, the customer experience offered online is shifting the customer service paradigm. Brick-and-mortar stores have to adapt to the change or risk losing their customers.
Have an online presence
Being instantly findable: That's the bottom line for customer service now.
No matter how firmly entrenched in a physical location your business is, an online presence is a must. LapTopMD is a solidly brick-and-mortar store: It fixes broken computers and cell phones, your place or theirs. Definitely requires a real-world presence. And it must be quickly found when people are hysterical because their hard-drive just crashed.
For LapTopMD, that means a vibrant website, accessibility on Yelp! and placing highly in the search results for any term people may use when that hard-drives crashes. Alex Mouravsky, online marketing associate, pays close attention to those rankings and to the adwords the company uses.
"Since we started tweaking and adjusting, we have seen growth increase exponentially," he says. "It has doubled every quarter now. Revenue has gone up. We expect [this last year] to be the best year we ever had by wide margin, in revenue and in net profit." It's been so good that they've hired more technicians to keep up with demand.
Second rule of customer service: Caring, knowledgeable staff.
Good customer service will no longer be measured by a greeting or a smile when the customer walks in. Yes, those still count. But what you really need is knowledgeable staff trained to take time to personalize the shopping experience.
Both women and men are now researching online before they buy. Photographers devoutly follow their favorite bloggers and read peer reviews. So do auto enthusiasts and moms. They come into a store armed with technical questions or seeking just the right product for a very specific situation. Your staff will need to know the answers or how to find them.
Online forums and reviews give shoppers the opinions of non-professionals. When they come into the store, they want some expertise on hand, whether it's about the best (not most popular) baby products for their situation or the best motor oil for a '72 Camry.
As one young mother — a devout online shopper — said, she'll pay more for products that come with personal attention and expert advice to augment those peer reviews. The Pump Station in Santa Monica, CA is one such place, where customers — nursing mothers — are served by staff who are clearly not minimum wage workers; they are older women, some with medical backgrounds, who genuinely care about the babies and moms.
The young woman's husband has the same expectation for service when he checks out computers and video equipment. He will wait to be served if he gets real service: Someone who understands his questions and will take the time to resolve problems.
Expand to include e-commerce
While computer repair can't be done online, a lot of business can be. "I love having a store and seeing customers, but I'm not going to grow by just being corner store," says Ann Cantrell, owner of Annie's Blue Ribbon General Store. She uses Facebook, blogs, and emails to market her products. And 30% of her sales are online, expanding her market far beyond her Brooklyn corner store.
Brick-and-mortar stores are the backbone of neighborhood character, community culture, local employment, and human interaction. We need you! So, please, join the wired world.
How has the internet affected your customer service?
This case study was done in conjunction with an online marketing survey, which gathered extensive data and benchmarks about how small businesses and nonprofits use online marketing and whether they are seeing results. For the executive summary, visit Ditch Digital Dabbling: How Small Businesses + Nonprofits Can Master Online Marketing.
If you like this article, you may also like:
How E-commerce and Customer Service Saved a Business
The Next Revolution Is in Your Pocket
How to Botch Customer Service