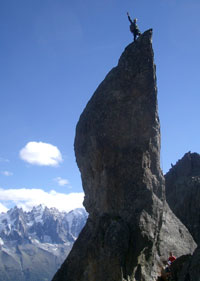 2 Keys to Stamina for Entrepreneurs: Network and Learning
back
It's not like Philip Kent Kiracofe is a new kid on the block. He's led successful ventures in real estate, venture capital, and online services. As to the usual entrepreneurial skills – ability to take risks, undaunted in the face of challenge – he may have extra, judging by his avocations of mountain climbing and Ironman competitions.
So what's he doing in a class to teach entrepreneurs how to manage and grow a successful business?
He's learning the skills and making the connections he needs to pick himself up and start over again despite the economic setbacks of the last few years. And he's again proving the point that learning is a lifelong process that invigorates, inspires, and renews.
Kiracofe just finished a grueling 4-week FastTrac GrowthVenture course, sponsored by the Levin Institute, NYC Business Solutions, Kauffman: The Foundation of Entrepreneurship, and the Deluxe Corp Foundation. The class and its partner course – FastTrac NewVenture – are designed to help entrepreneurs build successful businesses despite economic conditions.
I was lucky enough to co-facilitate with Derrick Webster the 26-member FastTrac group that Kiracofe attended. Kiracofe's insights were inspiring to me, his classmates and, I think, to any entrepreneur beaten down by the unpredictable twists and turns of entrepreneurship.
His feelings coming into the program sounded more like mid-life crisis or – dare I say it? failure – than the usual vigorous fearlessness attributed to entrepreneurs that Kiracofe has experienced in his business and personal life in the past.
He felt, he said:
apprehensive
depressed
pessimistic
seeking an escape
exhausted
uncertain
skeptical
And, more than anything else, alone.
The secret is out! Entrepreneurs don't always feel upbeat, successful, inspired, courageous or successful. Like everyone else, they can get muddled, suffer self-doubt, and even fail.
That's good to know, by the way. Failure is a stepping stone, not a headstone. Learn from your mistakes and move on. Kiracofe takes that to heart, as evidenced by his favorite video.
So what did 4 weeks of four-hour classes, two nights per week do for Kiracofe and his classmates?
Well, they studied:
financial analysis and time management,
the importance of mission and vision,
developing an exit strategy,
what an incredible resource a library card is: You can access databases from home!
And they connected, building a network that will take them who knows where? At least, no one is alone anymore. Some specifics for Kiracofe:
hiring a classmate to create an edible bouquet as a make-up offering;
being referred to a film producer (You never know when you'll need a film made.)
receiving a referral to a non-governmental organization that may (or not) fit in with his business;
meeting a famous chef after going out with classmates after class;
meeting Moby's agent. Nice, since Moby is a favorite musician;
making a deal: He bartered for computer services.
What stands out in the above list? Networking builds relationships. It moves your thinking outside whatever box you've got it in (an edible bouquet isn't the norm); it helps you here and now (computer barter); and it may just be fun.
Networking, like learning, is about being ready for the future. Every year, there's another year ahead. You need to keep up to date in what you know and whom you know. To build new businesses, you need to know what the world is like out there, what it needs, and how it's changing. Networking and learning keep you thinking.
With his new skills, new ideas, and contacts, Kiracofe described himself as:
motivated
invigorated
confidant
driven
assured
connected
That sounds like renewed to me. He's ready for whatever challenges or opportunities await his latest venture, Travelcology: Adventure for Good.
Kiracofe isn't alone. His classmates – entrepreneurs all, with businesses of their own – were enriched and invigorated by their peers. Marilys Ernst, head of MIArtbox, showed her appreciation, by making a video showcasing classmates' branding and highlighting one aspect of what she learned.
What do you do to stay invigorated when business gets you down? Have you made use of a network or classes?