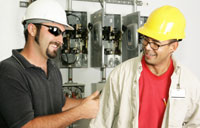 10 Tips for Sourcing Ethical Suppliers in Developing Countries
back
You want to be socially responsible, to buy from suppliers who treat their workers well and provide quality products. Very nice. But the practice is more complicated than the vision.
According to a study by the Chinese government and reported by Asia Inspections, nearly 80% of private Chinese firms violate employee rights and have not signed contracts with their employees.
The good news is, again according to Asia Inspections, that importing companies, particularly in Europe, are demanding higher levels of social responsibility. Requests for social audits – those assessing how workers are treated – were up 75 percent in the 4th quarter of 2009, compared to the 3rd quarter. Asia Inspections attributes the increase to pressure by consumers for socially responsible workplaces.
People don't want to support slave labor.
Nor do they want shoddy goods. Requests for quality inspections have also soared, according to Asia Inspections.
How do you, as a small business owner or social enterprise, make sure that the company in China or India or Turkey that you contract with to make your widgets is the kind of company you want to do business with and continues to be that kind of company?
The short answer: Hire an inspection company. The long answer: Check out the inspection company before you hire it. A very unscientific check of inspection services raised some questions I'd ask before I sign on the dotted line.
Here are 10 tips for inspecting the inspectors.
1 ~ Does the inspection company charge an all-inclusive fee or are there add-ons for travel time?
2 ~ Are inspectors full-time or part-time employees? If part-time, the inspectors may be more receptive to bribes. After all, they need to live, too.
3 ~ Are the inspectors independent contractors or are they employees of the inspection company? If the former, see #2 above re bribes?
4 ~ Are the inspectors rotated from one factory to another? If not, they may build relationships with factory owners that could affect their inspection reports.
5 ~ Do the inspectors get bonuses and benefits, both to discourage bribes and to assure you that the inspection company is also ethical?
6 ~ Read the inspection company's website carefully and thoroughly. One site offering social audits to ensure good workplace conditions advertised, and I quote: Only [our company] has up to a 50% longer, 12-hour work day! The others stop at just 8 hours! Don't pay more for less inspection time! Are these the people you want checking workplace conditions?
7 ~ Can you modify the workplace inspection to go beyond the basics. Inspectors generally look only at compliance with local and customary wages. Ask if you can modify the inspection parameters to meet your standards, such as "Does the company pay a living wage?" or "Do workers get paid time off?"
8 ~ Will workers be interviewed away from their employers?
9 ~ What kind of training do inspectors get beyond that needed to meet basic certification standards? For social auditors, do they get training in detecting coercion by employers or lying by employees? Are quality-control inspectors knowledgeable in their field?
10 ~ How do samples of products to be tested get to the lab? Are they sent in by the factory (open to question) or does the inspector randomly select samples from the assembly line?
You get the idea: Do your due diligence. And keep up the pressure! Demand for social responsibility is having an effect.
Have you had experience with an inspection company? What did you learn? How do you ensure that your suppliers are ethical?